Mini cube dancing speaker--pig
18times 2023-10-26
Our company is China mini speaker supplier.The  the mini cube dancing speaker is a powerful Bluetooth speaker that provides all-round support for professionals to relax. It not only supports Bluetooth and hands-free calls, but also plays your favorite songs through Bluetooth connection. The most surprising thing is that its sound hand and legs can also swing, adding fun. More importantly, it only needs to charge for 1 hour, and it can last for 4 hours, giving you a lasting use experience.
The robot's Bluetooth feature allows you to easily connect your phone or other Bluetooth devices for wireless calls. Whether attending a meeting or communicating with a client, you can always enjoy the convenience of hands-free calls. In addition, you can also use it to play your favorite music, to make the atmosphere of the workplace more relaxed and pleasant.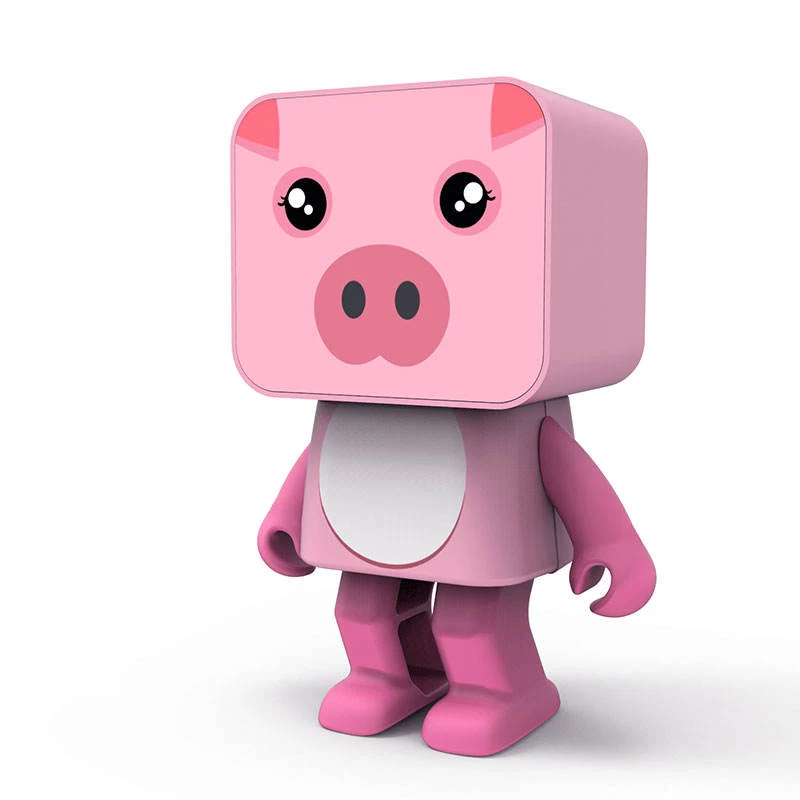 Our company is China mini speaker manufacturer.Not only that, the small square animal robot's movable arms and legs make it a fun companion. When you need to relax or relieve work stress, you can change the posture of the robot by controlling its arms and legs. This little interaction can also lead to a relaxed and enjoyable work experience.
Another pleasing feature is that the battery life of the mini cube dancing speaker is excellent. It only needs to be charged for one hour, and it can work for four hours. This means you can use it consistently throughout the working day without having to worry about running out of power. This efficient battery life allows you to focus on your work without having to charge frequently, increasing productivity.
Overall, mini cube dancing speaker is the ideal assistant for professionals to relax and spend time alone. Its Bluetooth and hands-free calling functions provide you with a convenient way to communicate; Playing music through Bluetooth connection adds a pleasant atmosphere to the working environment; Movable arms and legs designed to bring you fun and relaxation; Up to 4 hours of battery life, so you no longer worry about power. Whether it is to improve work efficiency or improve the work experience, the small square animal robot is an indispensable choice.
Let's enjoy the convenience and fun brought by the small square animal robot!