What does it mean that the speaker has IPX7?
14times 2023-08-23
What does it mean that the speaker has IPX7?Seven waterproof products can prevent short time immersion, which means entering 1 meter deep water for 1 minute without impact due to water. A Bluetooth speaker with level 7 water resistance is an excellent choice for outdoor audio.
With the development of technology, the portable speakers suitable for outdoor use have faded away from the previous bulky cases. And add a lot of practical functions. Compared with the past outdoor Bluetooth speakers, the connection line is removed, the battery life is longer, and the wireless Bluetooth connection is supported.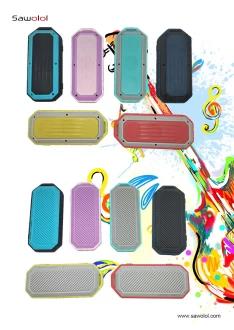 The size of PX7 Waterproof Bluetooth Speaker is such a Bluetooth speaker that is very easy to carry out.Small and convenient, it's hard to put it down. I always want to take it with me when I go out. And has 7 waterproof function,use it as you want. Double speakers without 6w high-power bass, sound experience is very good. Whether the product is carried or carried on the waist, it is very attractive. What's more, it can be used for 5 to 6 hours after 2 to 3 hours of charging, and it is enough to play outdoors for a day. No battery anxiety at all. Speakers have a variety of colors to choose from, like special can choose pink or yellow, can increase the number of heads.
As a digital fan, I highly recommend it.