Do you like vintage mini speakers? You want to take a look at mine
14times 2022-09-07
In those days, people's love and obsession with radio and recorder and their feelings may not be understood by many people today. Music can bring us power, inspire us and express our feelings. However, almost none of the radios from that era have been preserved, leaving some regret to the people of that era. With the development of The Times, now the single radio almost not produced, replaced by a large number of different forms of speaker box products. No matter bring to listen to music, do decoration to wait, present sound box also can be collected in the home, the life that can let us adds infinite brilliance.
Of course product of sound box of this kind restoring ancient ways also is loved by others, especially girls, the desk of ark of desk of dresser, computer, tv or unit places such sound box, besides good-looking, also can listen to music, reduce decompression to dull job, more the life that can let us likewise is some different.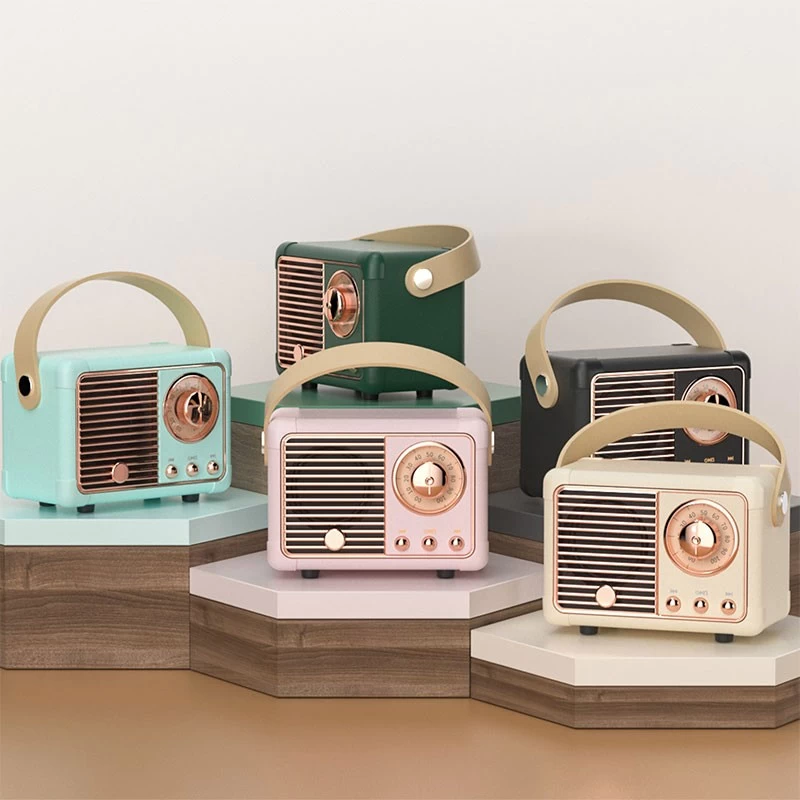 Let's take a look at the speaker first:
The exterior is retro styling. One of the highlights of this product is that it looks like a mini retro art-house vintage radio. It has a retro design look, but it is still fashionable. To the modern eye, many people might also think of it as a mini handbag, because it has a handle, which is instantly felt.
In terms of design, it combines many old radio elements, integrated body structure, with leather grain design, so that the product looks retro and fashionable. Even if you don't use it, it's a great decoration for your home. The size of 10.5*7.5*6.5CM is not small, but the weight of the body is quite significant.
The retro FM dial is added, and the retro FM button is decorated with gold. With a gentle twist, you can find an accidental radio love song in the noise. It perfectly restores the metal drawing sense of the power amplifier knob in the 1990s, which is very good in hand feeling and the resistance of the knob is also appropriate.
The front is a more interesting loudspeaker design, in fact, is a loudspeaker outlet, golden bar protection at the same time quite a sense of design, after each section of the audio curve debugging, maintained a smaller distortion, better restore the essence of music.
Listening:
The minimum requirement of this retro mini speaker is that it can be listened to, the treble is not sharp, and the external sound should be loud but not broken. The sound produced by the small shape is very clear and bright, the human voice is full and natural, with a thick classical taste, the low frequency is relaxed and elastic, the medium frequency is mellow, the high frequency is exquisite, the sound effect is surprising.