Home
»
News
»
Industry News
» Smart bluetooth sunglasses: It is an artifact of listening to songs, and it is also a fashionable product!
Smart bluetooth sunglasses: It is an artifact of listening to songs, and it is also a fashionable product!
11times 2021-07-14
Sunglasses + headphones are a must for many people to go out for leisure. Nowadays, sawolol, a well-known manufacturer that is good at changing lifestyles with audio technology, has combined sunglasses and headphones with a new smart bluetooth sunglasses, which reduces the burden on the ears.
The core functions of both sunglasses and speakers are one to block the sun and the other to transmit sound. This smart bluetooth sunglasses creatively combines these two functions, not a simple piece of hardware, but a clever application of wireless audio connection technology to sunglasses. In the case of providing clear and accurate sound effects, smart bluetooth sunglasses uses an open sound transmission method, that is, you can listen to the sound effectively without clogging your ears. The advantage of this design is that it avoids the shortcomings of traditional headphones that cannot hear the outside sound when listening to music, and allows listening to music and perceiving the world simultaneously.
It is well known that speakers need to be used for sound production. The speaker part of this smart bluetooth sunglasses is located on the mirror foot, which is very concealed. When the power is turned on and the glasses are worn, the earphones are also worn. When playing music, the sound from the speakers has a strong directivity. That is, walking on the street wearing smart bluetooth sunglasses, only you can feel the music surrounding your ears, and people around you will hardly hear any noise. This ensures the privacy of music and calls, and at the same time can always sense the surrounding environment, killing two birds with one stone.
This smart bluetooth sunglasses embeds a miniature microphone and multi-function button on the right temple of the smart bluetooth sunglasses, which are used for power on, Bluetooth matching, pause/play music, answer/hang up calls, and trigger voice assistant functions, which are convenient and quick. If you want to turn off the speaker, just turn the glasses upside down for about 2 seconds, which is in line with the daily use of sunglasses.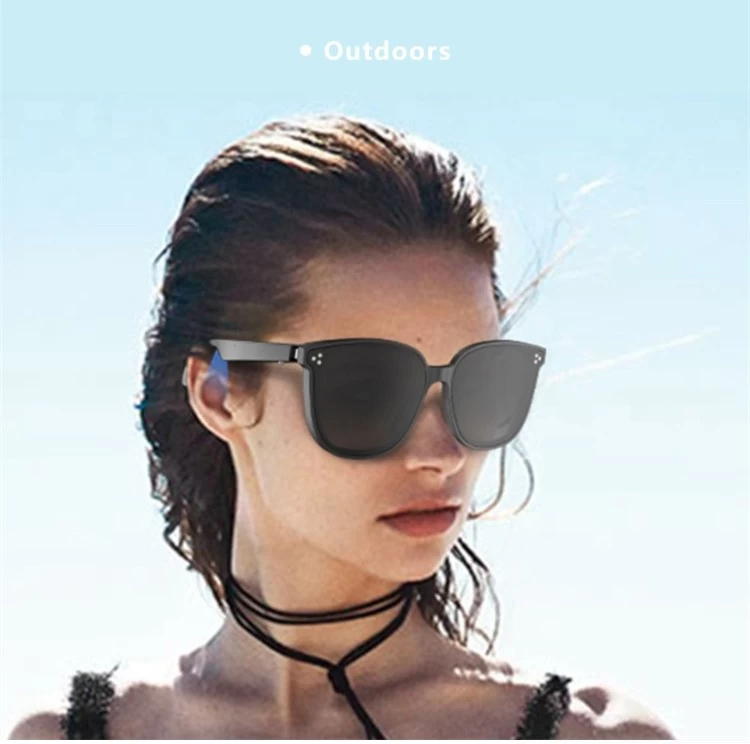 Good-sounding and beautiful, it has always been the design style of sawolol audio products. Therefore, sawololsmart bluetooth sunglasses is not only an artifact of listening to songs, but also a fashionable and popular product. It uses a classic box shape and large lenses. The rectangular line is suitable for most Asian faces. It is matched with a neutral and handsome pure black. It can be worn by both boys and girls. It is not picky at all. On the contrary, it is more out of the street. Minute.
Smart bluetooth sunglasses lenses are evenly colored. According to different dressing preferences and styling styles, there are two options for mirror silver and gradient blue. The lens material is also exquisite, can resist UVA/UVB radiation, and is not easy to scratch or chip. The frame is made of lightweight and durable nylon material, which is not only scratch-resistant, but also very skin-friendly and comfortable. There is no pressure on the bridge of the nose when worn daily.
The emergence of smart bluetooth sunglasses simplifies the combination of sunglasses and earphones. Wearing sunglasses also puts on earphones. It is a sun-shading expert, an artifact of listening to music, and a fashionable product for outdoor leisure!