Why choose Dancing Bluetooth Speaker Plus
10times 2023-08-04
Dancing Bluetooth Speaker Plus is a product of Shenzhen Jaskey Technology Co., LTD. The Dancing Bluetooth Speaker Plus can be used in a variety of scenarios, from playing music while doing chores to allowing hands-free calls while making and receiving calls.
The difference with the traditional Bluetooth speaker is that its body can be twisted with the music, and at the same time you can adjust the brightness of the light according to your own ideas. To a great enhance fun to life and curing tired people after work. And equipped with wireless technology, wireless connection range can reach 10 meters and the speaker's rated power is 6W. No matter where you sit on the Speaker, you can quickly connect to the Dancing Bluetooth Speaker Plus as long as you are within 10 meters of the speaker. The product can operate at normal volume for 10 hours after a full charge, and it takes 4 hours to fully charge. The Dancing Bluetooth Speaker Plus is made of ABS plastic, which has good impact resistance, good dimensional stability and high hardness. You don't have to worry about falling off the table and cracking. Like the portable Bluetooth speaker, the box is flexible and compact, small and easy to carry. And our product supports private model customization, if you like, you can contact us to do Bluetooth speaker wholesale.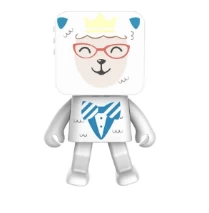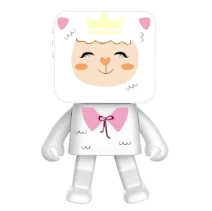 The Dancing Bluetooth Speaker Plus is also perfect for gift-giving, and those who receive it as a gift are sure to be impressed by its cute appearance and superior sound quality.